ACT Off the Wall
from the mind of Evan Kruse.
My wife is a registered democrat, so I am lucky enough to see some of the mailings that target democrats. So, ACT, one of the left wing groups that has taken to some pretty interesting efforts in the final few days of the elections to make sure people don't vote for Bush. A very interesting flier came in the mail today. Upon initial viewing, you see this: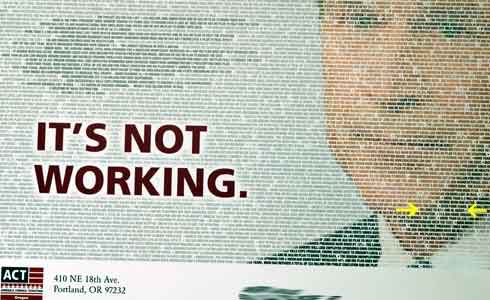 the image is comprised of little micetype in different shades and colors to create the image seen. (note, the smudge on the bottom is a blurred out name of my wife and our address.)
I was drawn toward the whole concept, it's kind of clever, and I like to be informed of the claims and arguments of people who think differently than I think. So, I put my face really close to the paper, and started reading the roughly 7 pin type that is really bunched together. And, I found this: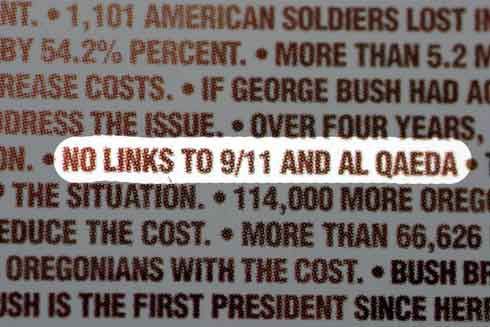 (Note: in the full image above, the location of this text is noted by the little yellow arrows, though this statement appears several times on the flyer.)
So, we can fully agree that ACT is off its rocker. To claim that there is no relationship between this terrorist organization and the attacks on 9/11 would go against so many reports and so much testimony by the mastermind of the 9/11 attacks himself. (By the way, he is referred to as KSM in the 9-11 comission's report.)
This is what we are up against. We try our best to keep the truth in mind, while the opposition just fabricates these lies. It is absolutely unethical.... and I've shown you the proof. So, if they have to use such lies like this to support their claim that 'it's not working'... then maybe their claims are just plain false as well.
Oh, the address for the Oregon Chapter of ACT is plainly visible on the upper image. Feel free to write to them and give them a piece of your mind.